ONLINE RENTAL EXCHANGE (ONLINE)
Access the power of the ONLINE Rental Exchange through Property Genie!
ONLINE Information Services, Inc. and Property Genie have partnered together to provide user's seamless access to the ONLINE Rental Exchange: the premiere tenant-screening and bad-debt elimination tool for the Rental industry. As industry leaders, both Property Genie and ONLINE recognized the importance of eliminating bad debt for property managers and have worked closely together to offer you this service within your Property Genie software.
The ONLINE Rental Exchange: Powerful tools to help you eliminate bad debt
As the only Total Tenant Screening Solution for the property management industry, the ONLINE Rental Exchange allows you to instantly assess the delinquency risk applicants pose and charge an appropriate deposit to protect your properties. Powered by our proprietary Exchange Database, the ONLINE Rental Exchange gives you exclusive, real-time access to
the payment experiences of property managers and utilities throughout the nation. Unlike traditional credit reports, our ONLINE Rental Exchange report is color-coded for easy readability and gives you exclusive access to our Exchange data at no extra cost.
Key Features:
- Instant credit decisions customized to meet your needs
- Sophisticated ID Verification and Fraud Detection tools, including Red Flag alerts
- Exclusive access to ONLINE's proprietary, national Exchange Database
- The easiest to read credit report in the industry
- Industry-leading Collection Services to recover your bad debt quickly
Sample ONLINE Rental Exchange Report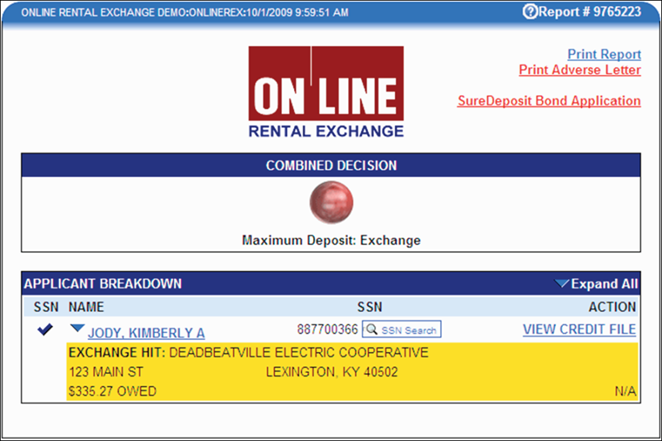 The ONLINE Rental Exchange
Report is the easiest to read on the market and helps your CSRs make the right decision with visual cues, including Red Flag alerts.
Take the Guesswork out of Applicant Screening with Property Genie and the ONLINE Rental Exchange
In these tough economic times, assessing and managing risk is the key to sustaining profitability. With vacancies at 12% and total rents down 3.3% according to the NAA's 2009 review, implementing effective applicant screening is integral to controlling bad debt. When you factor in declining incomes and sudden job losses, the need to accurately determine risk at the point of application and establish effective deposit policies is more important than ever.
But the process can be daunting. Before you can start screening applicants, you need to first establish effective move-in criteria. This collection of factors helps you determine if the applicant will make a "good" tenant. Some of these are obvious, like debt-to-income ratios and criminal histories, while others are less so. These will also vary depending on your property's location, legal structure, and target occupant. While everyone knows that applicant screening is a vital business practice, some property managers struggle with determining what criteria to include or find that gathering the information and deciphering it takes too long or is too tedious to be effective. Coupled with the need to assign weight to each factor to help determine delinquency risk, this process can be complex.
Once your move-in criteria is established, the next step is to create policies that state which applicants you will accept and what deposit you will charge them based on how well they "scored" on their application. As a broad example, you could decide to reject all applications with felony criminal records and bad credit, while accepting applications with borderline credit ratings but charging a sufficient deposit to mitigate the increased risk, typically enough to protect you if the applicant breaks the lease or is evicted. The trick is accurately scoring your applications in a way that you and your property managers can make consistent, objective deposit decisions time after time and securing the appropriate deposit amount to protect against loss. Once again, this can be a burden. The good news is that as an Property Genie user you already have an integrated solution to applicant screening.
Designed specifically to eliminate bad debt at the point of application, the ONLINE Rental Exchange is the leading applicant screening and debt recovery tool on the market. Featuring real-time data updates, easy-to-read reports, and customizable deposit decisions based on your needs, the ONLINE Rental Exchange allows you to quickly screen your applicants directly through your Property Genie software.
With decades of credit reporting experience, the ONLINE Rental Exchange understands which indicators are most important in accurately assessing risk, and they synthesize the results to provide you with a clear picture of each applicant in a matter of seconds:
The ONLINE Rental Exchange Summary Report
>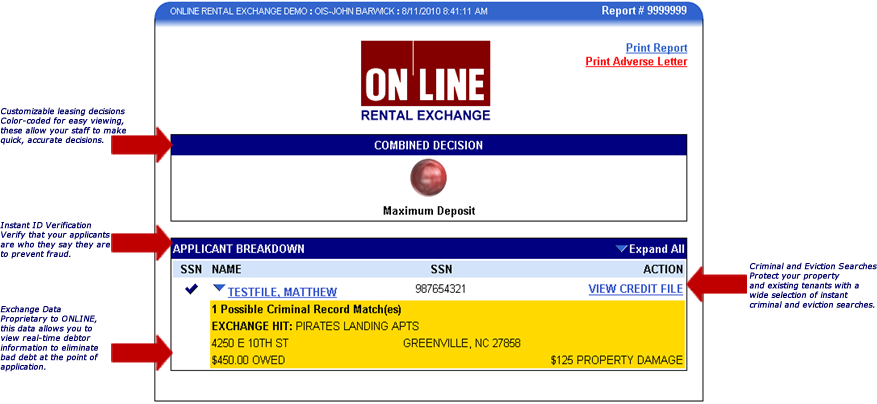 To help protect your property, ONLINE also offers comprehensive criminal searches to help your property managers make accurate decisions time after time. Fully integrated within the ONLINE Rental Exchange and available instantly, these searches ensure your existing tenants' safety through customizable reports that range from full criminal histories to those that display a clear "accept/deny" message based on your specific needs. With ONLINE's criminal searches, you'll have the peace of mind that your property managers are conducting the appropriate due diligence on each applicant.
Accessing the ONLINE Rental Exchange through Property Genie is easy. With just a few simple steps, you can receive all the benefits and speed of the ONLINE Rental Exchange without having to enter information twice. Also, when you sign up, you will gain access to ONLINE's proprietary Exchange Database.
Comprised of payment experiences submitted by property managers and utility service providers throughout the nation, this database acts as a safety net that helps prevent tenants from moving between service areas without paying you and your industry peers. By capturing and updating debtor contact information in real time, it also helps ONLINE Collections recover your past-dues quicker than traditional agencies.
Take the guesswork out of your applicant screening by choosing the ONLINE Rental Exchange. Activating this service within Property Genie is easy.