Property Genie is not just a Property Management Software--"It's an Entire Property Management Business Model"
The Property Genie software is uniquely designed to assist property managers with a complete model to streamline existing operations, but more importantly expand future operations. Our goal is to provide a business model that guides property management companies and their employees in their daily activities. How do we accomplish this?
As we have noted, Property Genie was created by Property Managers. As such we looked at the unique world of property management and used the best practices of some of the worlds largest management companies to create a streamlined work flow. The software is broken up into four unique categories or positions within the management company. These positions are shown in the following screen shot.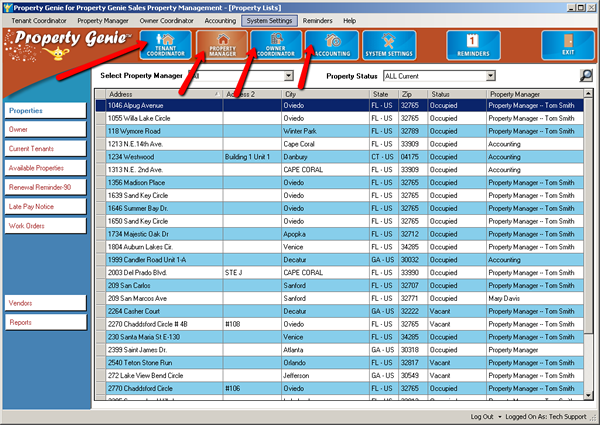 | | |
| --- | --- |
| | The Tenant Coordinator is responsible for front desk, administrative tasks. Some of these tasks include managing tenant applications, entering prospective tenants into the system, receiving (but not applying) rents, and answering phone calls. The Tenant Coordinator User has a unique login and password, along with his or her own set of rights within the system. |
| | |
| --- | --- |
| | The Property Manager oversees the day-to-day operations of assigned residential properties, including rental collections, conducting inspections, producing reports, and coordinating work order requests as needed. The Property Managers each have a unique login and password, along with their own set of rights within the system. |
| | |
| --- | --- |
| | The Owner Coordinator markets to potential owners with the goal of picking up new homes to manage. This position, along with its series of tasks, is designed to provide the tools and communication necessary to maintain and market to both existing and potential owners. The Owner Coordinator has a unique login and password, along with his or her own set of rights within the system. |
| | |
| --- | --- |
| | The Accountant or Accounting Department is responsible for managing all aspects of the accounting ledgers, performing monthly bank statement reconciliations, recording of accounts receivable, and processing accounts payable batches. The Accounting User(s) have a unique login and password, along with their own set of rights within the system. |