Property Genie includes a complete Reminder and Calendar system
Reminder System
Upon logging into Property Genie, each user is greeted with a reminder screen specific to them that pulls and lists all upcoming tasks and to-dos. Once the job is checked completed, it disappears from the reminder screen. New tasks or events can also be added from the reminder screen. With so many things to do on a daily basis, it is not uncommon for property managers to forget something on their list. This built in system allows Property Genie to be the friendly reminder that helps get the job done.
The screen shot below shows the Property Genie reminder screen. As you can see, you can view all reminders, or reminders by an individual property manager. You can also choose to view all reminders, completed reminders, or incomplete reminders.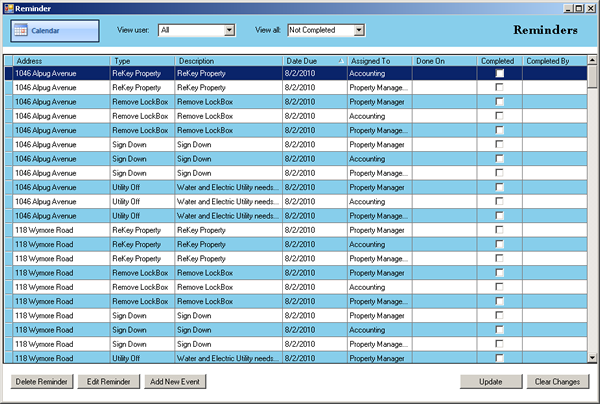 Calendar System
Property Genie has a built-in calendar system which allows management companies to stay on top of what needs to be accomplished in an organized and efficient manner. Each user has their own calendar with tasks and events specific to them. This built in calendar gives the option to view a particular day, week, work week, or month at a time. The following screen shot shows the calendar with some events. As you can see, the calendar is viewable by day, week, or month. All events can be shown on the calendar, or just those assigned to a particular property manager.